Kerui C1999 Wireless bar dining room Restaurant Calling System Nurse Call Button Nurse 19 Call Button Emergency Push Button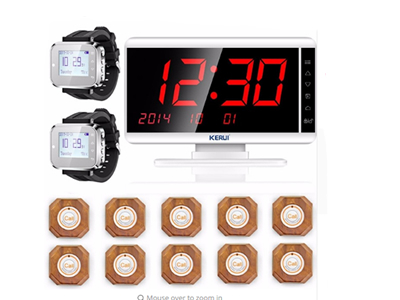 Kerui C1999 Wireless bar dining room Restaurant Calling System Nurse Call Button Nurse 19 Call Button Emergency Push Button
Special price: [ $150.00 ]
Kerui C1999 Wireless bar dining room Restaurant Calling System Nurse Call Button
1.)Wireless calling system and burglar alarm system using.
2.)Touch keypad, good operation.
3.)Using high brightness large digital tube display, strikingly intuitive;.
if you want to know wholesale discount price,please contact us by e-mail.

Note:
If your shipment is delivered to a remote area,this charge will be added to your shipping cost.Checking your area is a remote area or is not a remote area on the website:http://remoteareas.dhl.com/jsp/first.jsp
Kerui C1999 Wireless bar dining room Restaurant Calling System Nurse Call Button Specifications:

Lattice screen display, Chinese&English double language for optional,
humanized menu for handling, easy to learn and use.With a perpetual
calendar, never lose the date and time when turned off.Compatible
with 999 wireless transmitters, name of transmitter can be edited.
Fit with other type of transmitters, function of the button can be freely defined.
99 sets of calling information can be surveyed.
10 sets of clock alarm supported, still alarming when power off.
Timing for saving energy & power on/off.
Gathering modes like Restaurant,Hospital,Bank,Factory.
Prompt setting for Light, Vibrate, Beeps can be optional.
Strong power saving technique.
Built-in high capacity rechargeable lithium battery.
Compatible with coding 1527 ( Resistance 150K-470K) and 2262(resistance 1.5M-4.7M)
Whole series of signal transmitter.

It is suitable for Restaurant / Cafe / Fast Food Restaurant / Hotel / Golf Club / Bar / Night

Club / Internet Cafe / Game Room / Karaoke / Hospital / Factory / Office / Anywhere

needs attention of waiter !
Technical Parameter---Watch Pager System
Product Description
1.Wireless calling system and burglar alarm system using
2.Touch keypad, good operation.
3.Using high brightness large digital tube display, strikingly intuitive;
4.Real human voice report, all operation is voice prompt, easy to understand
5.With calendar display, power shutdown is not lost time
6.Can match up to 999 road radio transmitter
7.Can be with 20 remote control to The whole management of the host
8.2596 kinds of calling reporting numbers can be set free
9.Transmitter keys' function are free to define;
10.32 types calling, can adapt to all kinds of occasions
11.Cycle show time is 0-999 seconds,
12.The remind timeout is 0-999 seconds,
13.Clearing time automatic is 0-999 seconds
14.Can inquire recently 50 set of contact information
15.The alarm can match 99 detectors, devided to 99 defense zones.
16.The alarm can bewith 20 remote control to arm/disarm.
17.The alarm can set 2 groups phone numbers.
18.Up to 2 sets arm/ disarm schedule function
19.Display recent 100 alarm recording
20.one signal output,one audio output,one,can join in Headphones or siren.
21.Can compatible millions of code chips 1527 (resistance 150 k - 470 k) and common code
22.Chip 2262 (resistance 1.5 M to 1.5 M) full range of transmitter and remote control manager.

Technology Parameters
Working Voltage: DC12V/2A
Working Currency: < 500mA
Standby curreny: < 300mA
Siren output: < 200mA,12V
Receiving frequency: 433MHZ
Receiveing distance: 100Meters(Opear area)
Working temperature: -20C-55C
Package include
Host Panel x 1
Triangle 4 keys button x 10 (battery include)
1 X Watch pager
Power Adapter x 1 (EU/AU/US/UK)
User Manual x 1

It is suitable for Restaurant / Cafe / Fast Food Restaurant / Hotel / Golf Club / Bar / Night

Club / Internet Cafe / Game Room / Karaoke / Hospital / Factory / Office / Anywhere