KERUI D026 Window Door Magnet Sensor Detector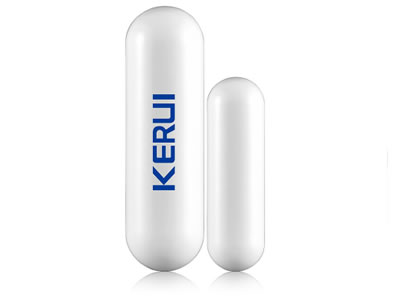 KERUI D026 Window Door Magnet Sensor Detector
KERUI D026 Window Door Magnet Sensor Detector
1.)Wireless calling system and burglar alarm system using.
2.)Touch keypad, good operation.
3.)Using high brightness large digital tube display, strikingly intuitive;.
if you want to know wholesale discount price,please contact us by e-mail.

Note:
If your shipment is delivered to a remote area,this charge will be added to your shipping cost.Checking your area is a remote area or is not a remote area on the website:http://remoteareas.dhl.com/jsp/first.jsp
KERUI D026 Window Door Magnet Sensor Detector Specifications:

Built-in Antenna
Operating Power: 23A 12V
Transmission frequency: 433MHz
Compound multi-layer design
Built-in omnidirectional antenna
Superior circuit design
High-performance and low power consumption
Superior ABS material
Working frequency:433MHz
Shock resistence:4.7M,1.2M.3.5M,300k
Transmission distance:50-150m in open area.

Kerui D026 Sensor
1.It will send the alarm signal to control host once the door or window is opened
2.Low battery prompt to alarm host
3.Anti-Tamper Alarm
it can work with Kerui g18,Kerui G19,Kerui W2,Kerui W18,Kerui K7,Kerui 5900G ...Etc
It is suitable for Restaurant / Cafe / Fast Food Restaurant / Hotel / Golf Club / Bar / Night

Club / Internet Cafe / Game Room / Karaoke / Hospital / Factory / Office / Anywhere