Kerui G18 Wireless GSM Home Security Burglar Alarm System Outdoor Siren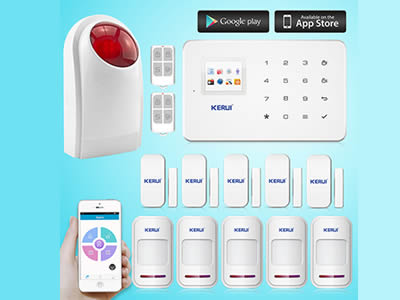 Kerui G18 Wireless GSM Home Security Burglar Alarm System Outdoor Siren
Special price: [ $129.00 ]
Kerui G18 Wireless GSM Home Security Burglar Alarm System Outdoor Siren
1.)TFT color display, humanized menu, operation with voice prompt, easy to use.
2.)There are 99 zones and 8 zone types optional in each zone; ON/OFF siren in each zone is available..
3.)4 sets scheduled arm/disarm/stay arm function by zone/day/time.
if you want to know wholesale discount price,please contact us by e-mail.

Note:
If your shipment is delivered to a remote area,this charge will be added to your shipping cost.Checking your area is a remote area or is not a remote area on the website:http://remoteareas.dhl.com/jsp/first.jsp
Kerui G18 Wireless GSM Home Security Burglar Alarm System Outdoor Siren Specifications:

Package included :-
GSM Alarm System x 1
PIR Sensor x 5
Door Sensor x 5
Remote Controller x 2
Outdoor Siren x 1
Power Adapter x 1
User manual x1

>
This alarm system is a high-end GSM alarm with stable and reliable performance and applies 1.7-inch TFT color screen and touch keyboard with built-in powerful CPU master and excellent operation experience. Automatic voice prompt or SMS message notify the location and events upon alarm. Compatible with wireless PIR sensor, door sensor, smoke detector, gas detector.panic button etc. It has been widely used in home, factory, school, shop,villa and residential area to provide protection for valuable assets.
Package included
GSM Alarm Systemx1
PIR Sensor x5

Door Sensorx5

Remote Controllerx2
Outdoor Sirenx1






Power Adapterx1
User manualx1



We also provide other FUERS Wireless & Wired accessories for sale. Please feel free to contact us if you have any needs.
We will send power adapter according to your country!
Main Function And Feature:
TFT color display,humanized menu, operation with voice prompt, easy to use
There are 99 zones and 8 zone types optional in each zone; ON/OFF siren in each zone is available.
4 sets scheduled arm/disarm/stay arm function by zone/day/time.
6 groups alarm phone No., automatically dial preset phone number when power failure.
10s automatic message recording with built-in artificial voice,so that user can know the alarm place and zone when receive the alarm call remotely.
Arm/Disarm, Monitor, Speaker, siren ON/OFF, smart socket ON/OFF remotely.
Wireless study 1527 series accessories, and as much as 99 detectors and 99 remote controls.
Telephone/SMS message long-distance control for arming, disarming, monitoring, remote announcement.
APP control host set and administration, and supports IOS/Android.
Host can call other phones directly as a common phone
One-way alarm linkage wireless relay, and one-way wireless strobe siren
Integrate high precision clock chip so that time never lost even power failure.
Display the latest 72 arm/disarm and 102 alarm records
2 groups of CID number,Compatible with international alarm networking protocol Contact ID
Low-voltage indication and anti-tamper
Built-in rechargeable high capacity LI battery and supply power automatically when power supply failure
Caller ID display, power-off reminder.
Host applies four frequency GSM/GPRS module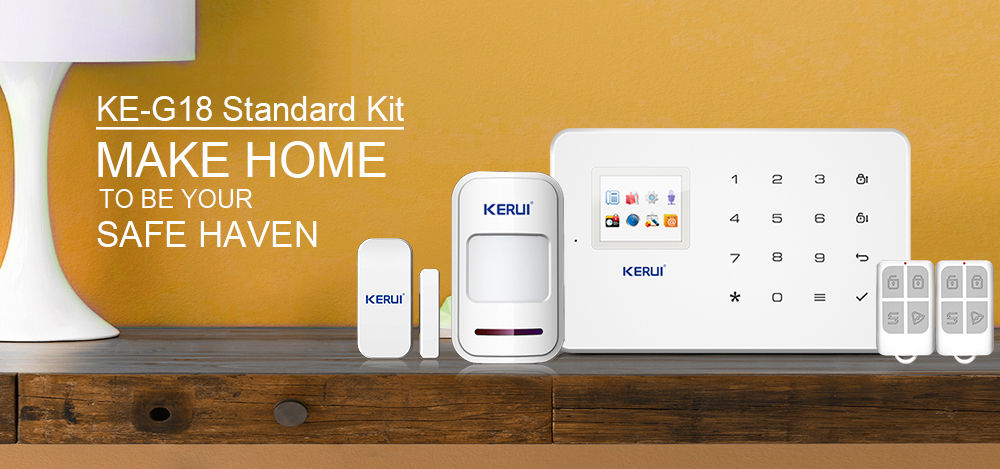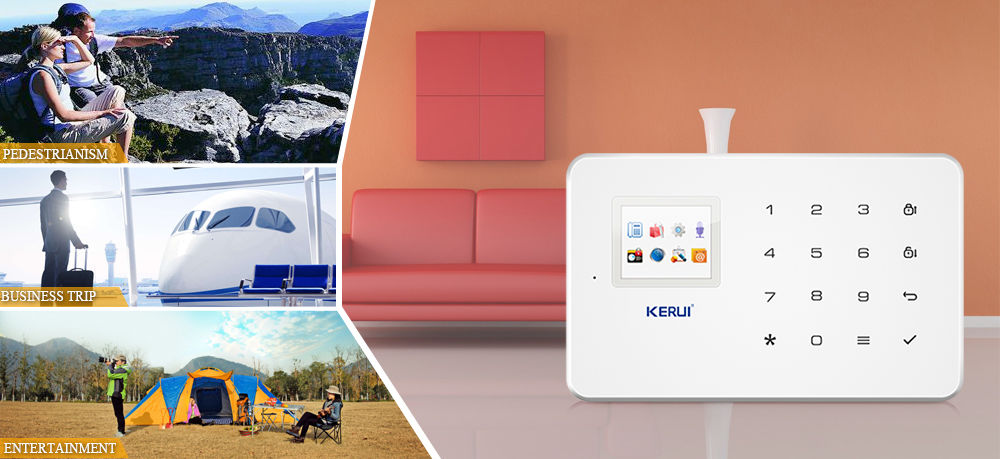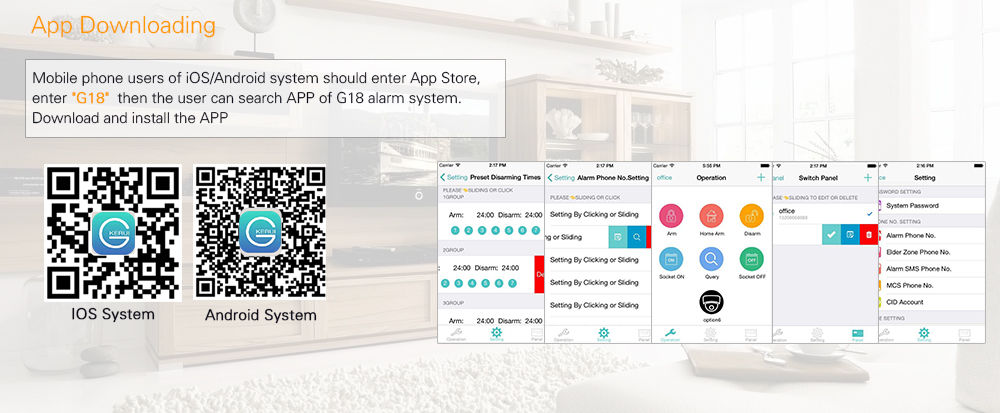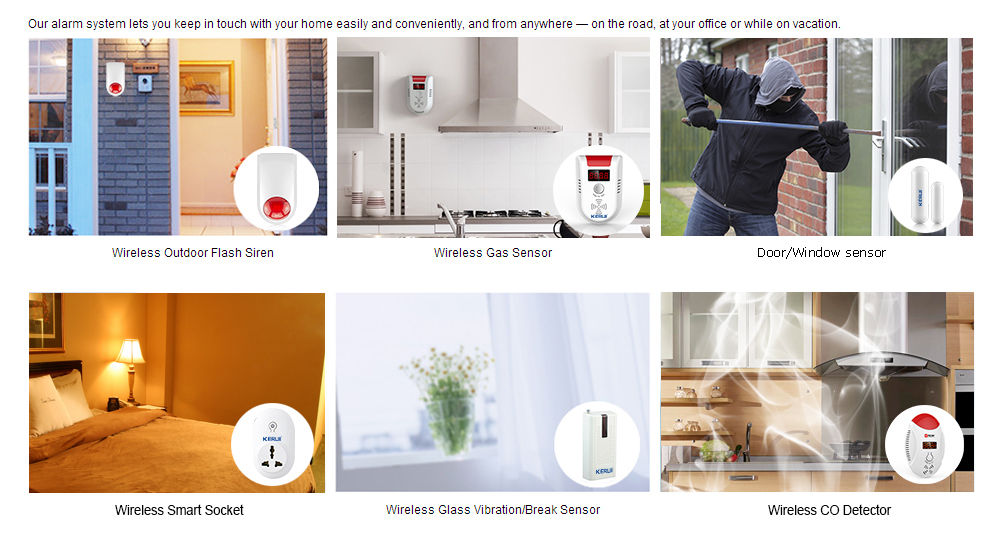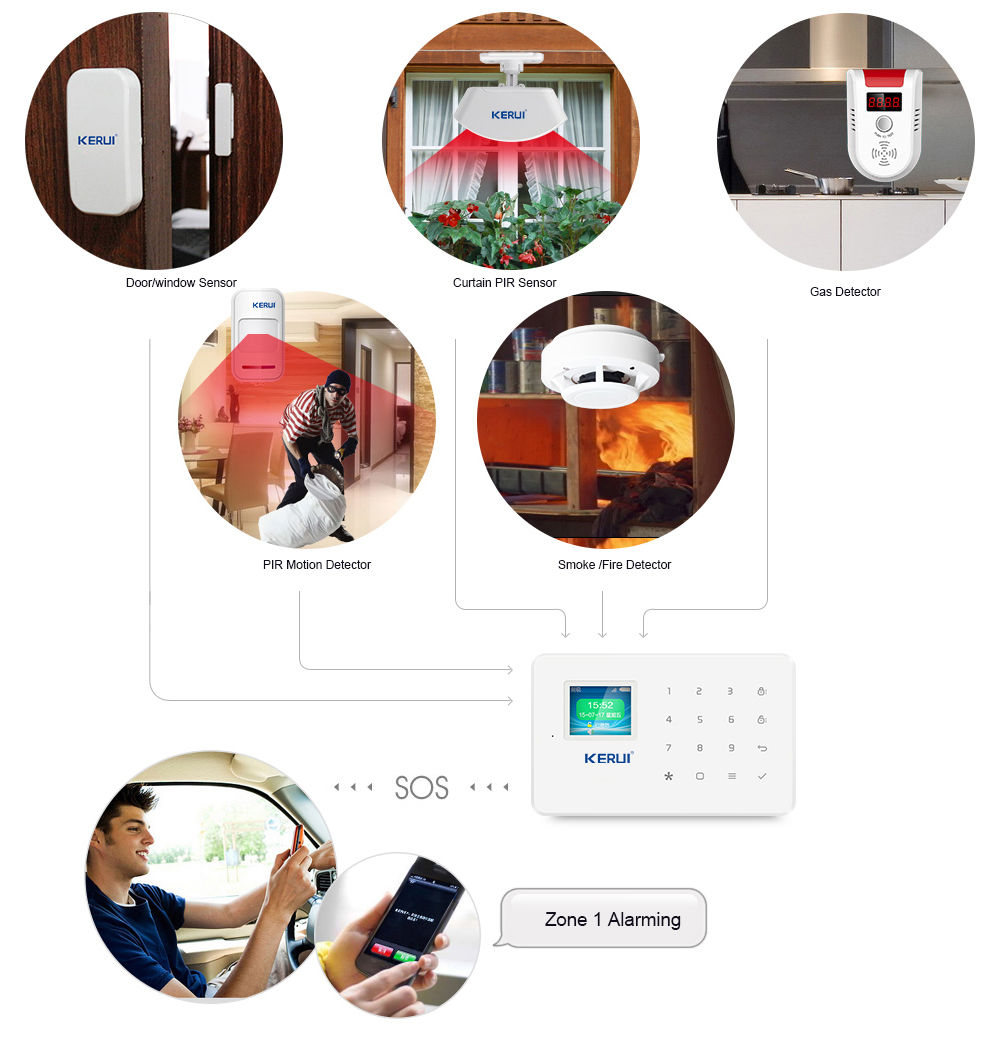 Choose Your Perfect Alarm System And Make Best Use Of It
Specifications
Kerui G18 GSM Alarm Control Panel

Input Voltage
USB5V
Standby Current
<60mA
Alarming Current
<300mA
Standby
Around 36 hours, Full charging time: 8hours.
4-Band GSM
850 / 900 / 1800 / 1900 MHz
Work Frequency
433MHz
GSM transmit power
2W
Built-in backup battery
3.7V 800mA Lithium Battery (Rechargeable)
Alarm Loudness
80dB
Wireless distance
100 Leters(in open area)
Wireless Door/Window Sensor

Power Supply
DC 12V / 23A Battery
Static Current
<=20 mA
Transmission Current
<=15mA
Transmission Frequency
433MHZ +- 0.5MHZ
Transmission Distance
About 30m with one barrier
Internal Distance
15 mm
Working Condition
Temperature -10 degree to + 40 degree
Humidity
<= 90% rh
Battery Life Time
About 8 months
Wireless P.I.R Motion Detector

Power Supply
3x AAA batteries
Transmission Current
<=20mA
Static Current
<==10mA.
Wireless Frequency
433MHZ +- 0.5MHZ
Transmission Distance
About 30m with one barrier
Detective Speed
0.3 - 3m/s
Detective Distance
8m
Detective Range
Horizontal 110D Degree, Vertical 60 Degree
Working Condition
Temperature -10 degree to + 40 degree
Humidity
<= 90% rh
Battery Life Time
About 8 months
RC-531 Remote Control (Keyfob)

Static Current
0
Emission Current
<=15mA
Transmission Frequency
433MHZ +- 0.5MHZ
Emission Speed
T<=1 second
Emission Distance
About 30 meters
Working Condition
Temperature -10 degree to + 40 degree
Humidity
<= 90% rh
Battery Life Time
About 6 months